(July,11th 2015) On this occasion of the 20th anniversary of normalization of diplomatic relations between the United States and Vietnam, Khanh Hoa Provincial People's Committee, in collaboration with Nha Trang Peace and Innovation Village Corporation and Boston Global Forum ( 12/7/1995 – 12//2015). The conference is hosted by Dr. Nguyen Duy Bac, Vice Chairman of People's Committee of Khanh Hoa Province; Assoc Professor Dr. Tran Dinh Thien, Director of Institute of Economics of Vietnam; Assoc Professor Dr.Nguyen Chu Hoi, Former Deputy Director General of Vietnamese Administration of Sea and Islands, Ministry of Natural Resources and Environment, more than 30 international scholars from Harvard University, MIT, Boston Global Forum ( USA), scientist and lecturers from Vietnam.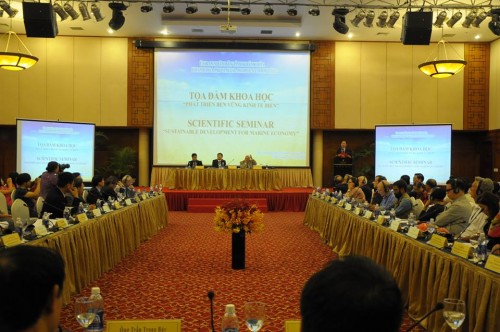 During the conference, scholars of Vietnam and international discuss about the strategy for sustainable development of marine economic of Vietnam; innovation of science and technology in strategy for development of marine economic of Vietnam; the issues about protection of marine resources… The conference opens a chance for Nha Trang to develop with others countries all over the world, especially enhancing comprehensive cooperation with America, based on Boston Global Forum.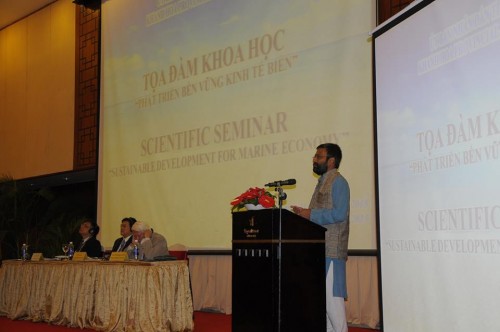 The conference also introduces the project of Nha Trang Peace & Innovation Village, expected to be a place for the scientist from all over the world to get together, study and innovate. Nha Trang Peace & Innovation Village also gives chance and conditions for young talent and scientists. This project aims at building Nha Trang to be the center of culture and technology of East Asia.Professor Thomas Patterson, Bradlee Professor of Government and the Press, Harvard Kennedy School; Co-Founder, Member of Board of Directors, Board of Thinkers, Boston Global Forum shared the practical steps to help Nha Trang, Khanh Hoa have a breakthrough development with the idea of attracting human resources who are the talents of the world to come to Nha Trang Peace & Innovation Village. His shares about focusing the support of America in training human resources, building Nha Trang as the place for Conferences of science and innovation of the world, being the connection and culture exchange dot in East Asia region… get the attention of the scientists and bring the remarkable message for development of Nha Trang, Khanh Hoa in near future.